Due to the improvement of the quality of life of population, the increase in expenses for health care during the last years that preceded the crisis of October 2008, the pharmaceutical market of Ukraine developed at a swift rate.
Retail Pharmaceutical Market:
In 2009 the total sales of pharmaceuticals in Ukraine made 2.6 milliard USD. The following figure represents the dynamics of change of market volume: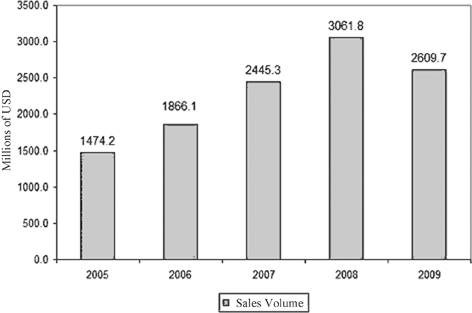 Figure. Sales Dynamics of Retail Pharmaceutical Market of Ukraine in the dollar equivalent
Import:
According to the results of 2009 the total imports of the finished pharmaceutical production (FPP) to Ukraine in monetary value made 1.9 milliard USD that is less than the result of the previous year for 13.6%.
Year
Total imports to Ukraine
Total imports of Pharmaceutical Warehouse of the Medical Academy, LLC
Dollar rate of NBU
Mln. doll.
Increment, %
Mln. doll.
Increment, %
Share in Ukraine
Dollar rate of NBU
Increment, %

2007

1785,8

6,1

0,34%

5,050

2008

2241,3

25,5%

6,8

11,0%

0,30%

5,267

4,3%

2009

1935,5

-13,6%

6,1

-10,2%

0,32%

7,791

47,9%
For the last year the official rate of dollar of NBU increased by 47.9%.
In such a way, the cracked position of the national currency rate towards the USD influenced upon the reduction of total import in monetary value. It is worth mentioning that the total import of Pharmaceutical Warehouse of Medical Academy, LLC was achieved due to three pharmaceuticals only ľ Cyclopheron, Reamberin and Perftoran.
The summary was made on the basis of data of Internet publication www.apteka.ua